This exercise helps balance as well as shoulder and core strength.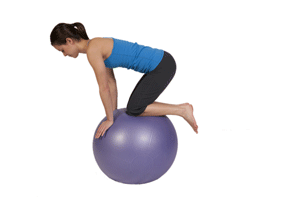 Instructions
Begin by placing both hands on the exercise ball, place one knee up on the ball, and then carefully place the other knee up, maintaining your balance so that you are on all fours on the exercise ball.

While maintaining your balance on the ball, slowly raise one arm to head height. Hold this position for a few seconds, then return your hand to the ball and raise the other arm in the same manner. Repeat this exercise 10-15 times per arm.
Fitness.com can not be held responsible for any injuries which may occur as a result of these exercises, advice or recipes displayed on this website. Do not undertake any exercise program, diet or treatment provided by the site without professional or qualified supervision.