This is a great exercise to work your hip joints.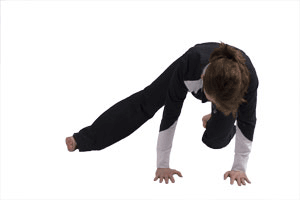 Instructions
Start this exercise kneeling on a mat. Bring your right leg straight out to the side, keeping it straight.

Keeping your balance with tight abs and forearms, lift your right leg toward the ceiling, keeping your knee straight. Start with just lifting your leg off the floor and slowly work your leg higher up.

Hold for 2 seconds then return to start position. Complete all reps on one leg, then switch legs.

Recommended reps: 3-5 reps per leg.
Fitness.com can not be held responsible for any injuries which may occur as a result of these exercises, advice or recipes displayed on this website. Do not undertake any exercise program, diet or treatment provided by the site without professional or qualified supervision.